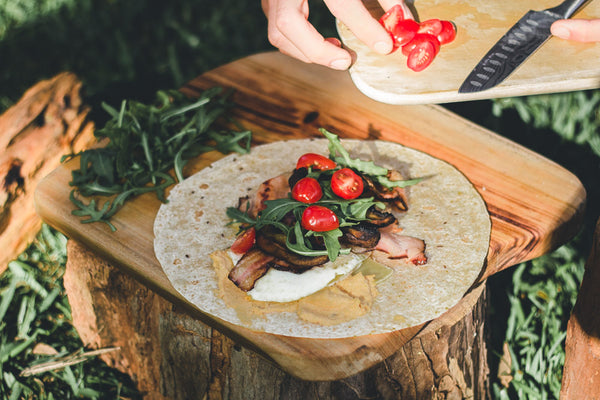 /
Campfire breakfast wrap recipe
This recipe is an old favourite and perfect for a camping getaway.

This meal is easy to pack and is a crowd-pleaser. The wraps take minutes to make and leave next to no washing up. This hearty meal goes down well with our big bold Woodford Blend. 
Ingredients
Bacon
Eggs (We like to use Forage Farms)
Wraps
Spinach
Tomato
Hummus
Cheese
Mushrooms

Cooking Method
Heat up the skillet over the campfire or BBQ.
Cook the mushrooms, bacon and eggs on high, in some butter/oil, the bacon will also produce some fat for cooking in. We always travel with hummus because it's filling and super versatile for adding to meals or snacking on. Throw on some hummus and any other condiments of choice. Layer on the cheese, then the warm stuff; eggs, bacon, mushies. Top with whatever fresh veggies you have on hands, wrap up, fill those empty stomachs and enjoy the serenity! 
Ever wondered how to pair food and coffee? Check out our coffee and food pairing workshop