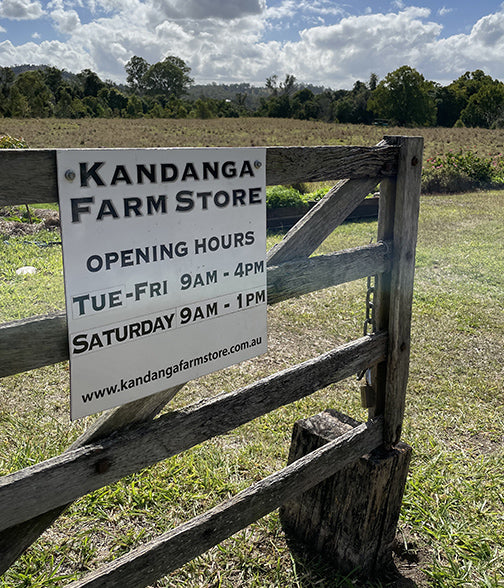 Journal
The Kandanga Farm Store and Cafe present 'Agvention'
A field day of Regenerative Farming and Food awaits. 
Nestled into the Mary Valley, this is a place that fosters change, builds relationships and is regenerating a community's sense of purpose. 
It's 'Agvention' today at the Kandanga Farm Store, Australia's first and only Regenerative Agriculture trade event, and the brainchild of its ambitious and generous owners, Tim and Amber Scott. 
On the drive north, the early morning fog is lifting from the horizon, and the first day of spring is beginning to deliver gorgeous solar energy to everything and everyone in its path.  
It's 7:30 am, and I'm arriving at a landscape of hardy utes, bustling boots and well-worn Akubras.
Approaching the venue, the size of the growing Regen Ag movement is apparent. There are 35 stall holders, 10 expert speakers and innovators setting up their stands, presentations and displays, ready to share their progress, challenges and curiosities with their audiences. Microphones are being readied in the speakers' tents, and school kids are arriving in droves to volunteer for the day.
The Regen Ag movement is gathering a ground swell it seems, and with sunshine, farmers, sons and daughters all readied, the future has never seemed brighter.
They say, 'it takes a village', although having taken a moment to talk with Amber Scott about Agvention and her wishes for the event, it's apparent that first, 'it takes a vision'.
"If people… before they ate, thought about what they're eating and made a buying decision based on the facts, it's probably the most important decision they are going to make every day, because it impacts their health, it impacts their state of mind… the decision they make impacts the way food is grown, and that can change the planet." 
Indeed, that's food for thought!
With shared values, we've been a proud collaborator with the Kandanga Farm Store serving coffee to its guests since 2020, when its ambitious owners identified that the rural farm store, and community, would benefit from a food and beverage offering within its grounds. A place to connect, nourish and inspire.
The Cafe on site has had a few rebirths, and incarnations, but has always remained true to its word… to serve its community locally sourced, traceable, seasonal, quality food and beverages, usually garnished with a producer story, and dressed in a warm country smile. 
I'm itching to get into the cafe today, and start offering coffee to the stall holders and guests, as Montville Coffee is proud to sponsor this event. So here we are, with our award winning Woodford Blend, a budding barista, and ready to knock out over 500 cups of Certified Organic Fairtrade Montville Coffee.
One component of our Woodford Blend is coffee from HOAC, the Fairtrade Co-operative in Okapa, PNG. In a past conversation with Daniel Kinne, a coffee farmer himself and the previous Chairman of the Co-operative, we were discussing how to instigate change in a food growing community. Daniel shared that often in farming, many farmers can be skeptical of change and often, farmers need to 'see' change before committing to it. 
As I hustled my way through coffee dockets throughout the day, this theme stuck with me while observing those attending Agvention. 
Some were at the start of their journey, and keen to learn how to take their first steps looking for confidence or assurances. Others were seasoned veterans in Regen Ag practices, and curious to learn how to take a deeper dive. I'm moved by the humble attitudes of these people, and the desire to be part of change for the better.
Daniel's advice that 'seeing is believing' seems self-evident by the mass of attendees, the chatter and abundance of knowledge being shared.
What a success story Agvention and the Kandanga Farm Store are. 
It's no wonder ABC's Landline spent the day filming, interviewing and capturing the occasion for an upcoming episode, while Jen Nicholls of the ABC's Rural Report worked her way through the crowds capturing stories and content to share. 
We too, captured a brief moment with Tim and Amber to hear from them about their journey, passion and hopes for the future. 
Daniel was right, it's best to see and hear directly from those who are taking action. 
I'm sure you'll come away with the same conclusions. 
At Kandanga, there must be something in the soil.