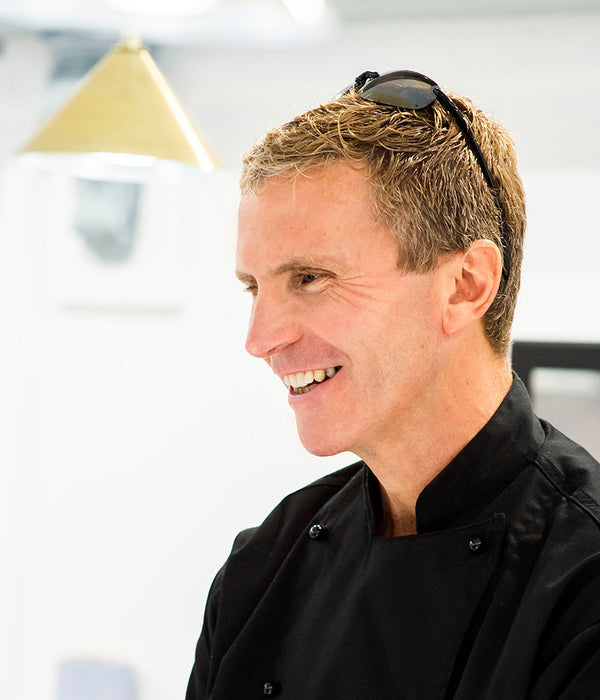 Journal
'Chocolate Moments' with Gerrard Gosens OAM
Have you explored the historical Brisbane Arcade, recently?  
Built in 1924, it's known as the 'Jewel in the Crown' for its elegant shopping experience, and old-world charm.
I first visited the Arcade in mid-2019 to meet Gerrard Gosens, a chocolatier with a retail store inside the prestigious walls. 
Gerrard had explained on a previous phone call that he was on the verge of launching a second retail store, at the other end of the Brisbane CBD, at 60 Albert St. It would include a coffee offering to which Gerrard had identified Montville Coffee as a key ingredient.
I'm 10 minutes early for my introductions and the CBD is beginning to unnerve me. I made haste to reach the Arcade for a little refuge to recharge after feeling the full brunt of intensity from the bustling city that had swallowed me, as well as the rocking train carriage I'd arrived in. Being from the Sunshine Coast, and feeling out of place, I thought, I don't think we're in Kansas anymore.
Stepping inside the Arcade, my heart rate adjusts, my pace settles, and my eyes become aware of the jaw dropping architecture I'm surrounded by. I was left marvelling at the beautiful form and nuanced workmanship. There's an echo inside the Arcade, which seems to heighten the importance of observing each step you take and encourages you to slow down and be present. I feel the surrounding design and environment inviting me to indulge my senses which I succumb to. 
I reach the Chocolate Moments store, which will shortly open for the day, and take a rest on a slick velvety 2-seater with smooth golden trim. 
Looking up, that must be Gerrard approaching the retail store, with his wife Heather, and his best man - Boss. 
Gerrard was born with congenital blindness, and 'Boss' is his guide dog. 
Heather is Gerrard's colourful, ambitious, and playful partner in this chocolate business, which Gerrard wittingly describes as their 'dark side', proving they saturate their lives in chocolate, garnished with fun.
Gerrard is tall, inquisitive, and animated in our introductions. I sense his excitement and gobble up his wicked sense of humour. He holds a firm handshake, oozes an aura of health and wellness, and pairs this with a disarming smile. 
In our first minutes together, I learn of a lifetime of adventure. Gerrard is an Australian Paralympic Triathlete who represented Australia in Sydney, Beijing, and Tokyo, as well as the most recent Commonwealth Games in Birmingham. 
He has climbed Mt Everest and run from Cairns to Brisbane five times for charity. He has flown a plane around Queensland 3 times, and is a proud father, and family man.
He has performed salsa on the TV show, Dancing with the Stars, raising funds for Vision Australia where he had also previously worked. In fact, it's reported that Gerrard has raised over $2 million worth of services and funds for the 120,000 blind people in Australia. 
It's unsurprising now to learn that in 2012 he was awarded the Medal of the Order of Australia (OAM) for service to people who are blind or vision impaired and to sport. 
Gerrard is proud to summarise the introductions by moving the conversation forward, sharing with me that he is the world's first and only, 100% blind chocolatier. 
Gerrard explains that he has an acute sense of smell and taste, and this allows him to craft chocolate varieties based on the palate experience without any influence of colour or visual cues to distort his perception of flavour. 
He sources unique and exotic ingredients, to leverage his forte, ensuring his chocolates stand apart, and remain unique in an otherwise crowded marketplace. 
The penny drops for me. I now understand why Gerrard's first retail store is in the Royal Brisbane Arcade. The 'sense' of space, and overwhelming 'feel' of grandeur and occasion bounce off the walls and are impressed on you as you explore the space. The slick tiles, and surrounding marble, set the perfect 'temperature' for decadent chocolate.  The wooden beams ground the building to the earth and the soft outside light enters from the antique windows and 'floats' delicately over the chocolate cabinetry that holds Gerrard's handmade craft - and the moment is set. 
Though I'm left wondering, how will Gerrard, Heather, and Boss ever replicate this sense of luxury, experience, and elegance at the base of an office building of some 21 levels tall, in their new cafe at the southern end of the CBD. 
Gerrard steps into his retail store which has opened now and returns with a few samples of his chocolates and he talks me through his vision... 
4 years on, I sit down now with my friend, Gerrard, to reflect on how he successfully carved out his own 'Jewel in the Brisbane' CBD, where patrons can take a moment for themselves over coffee and chocolate. 
As you step out of the grey CBD tones, and grinding noise of activity, Chocolate Moments hugs you as you push open a purposefully appropriately heavy door which somehow resets you. The moment you enter, the moment belongs to you. 
Your senses are greeted with an inviting warmth. The venue has a big heart which is obvious by the most caring of staff who greet you, and the customers who all seem more than happy to share this time and space with you. 
As the waitstaff takes your coffee or divine hot chocolate order, the typical 'city service' experience doesn't exist. There really is no apparent sense of time or rush here. The Chocolate Moments team will walk you through the display cabinets, to help you find a little pairing to go with your beverage that suits the time of day, your personality, or the mood you are in. 
Rest in comfortable leather lounges, with your beverage and chocolate placed on hand made bespoke wooden tables, and legs that are made from tree stumps. 
Or just relax on a cushioned seat if you think you can't stay that long. But you will probably end up letting your own 'Boss' know you're working remotely for the next few hours.
Marble bench tops confirm the importance of setting the right tone and validating the quality of the experience at hand. 
Warm lighting sets a calmness that suggests there is plenty of daylight left in the day… and you've got the time for one more cup.
You're probably not even conscious of the worldly music playing in the background that is traversing your mind to places you've been and memories you've made, which are far far away from here. 
Gerrard's retail range has continued to grow over the years, and he continues to seek out those exotic flavour combinations. His imagination and dedication to this value, simply won't dissolve it seems. On this visit, Gerrard told me of his latest creations which include blending his chocolate with honey from Graceville, Ginger from Buderim and of course, coffee from Montville Coffee.  
His sense of humour continues to run through his ever-growing retail range. The Chocolate 'First Aid Kits' prove to be a huge success, never more so than during the COVID pandemic. 
Gerrard takes delight in sharing that the kits include, "Chocolate bells", in case 'things are taking a toll on you', or 'Chocolate pineapple lumps', should you be 'feeling a bit rough around the edges', or 'Chocolate fish', if your 'feeling like you're floundering around'.  
His Chocolate 'Christmas Cards' always give him a rise. "You can read it and eat it!" he laughs. 
It's clear now, why a visit to Chocolate Moments includes allowing time to meander through the expansive retail range. Caught up in the excitement, and the 'moment', you'll be pondering what gift to share with a loved one, or how to choose a chocolate that pairs nicely with a romantic comedy on the telly tonight. 
But as you explore the expansive retail cabinetry, you'll discover a gap. Well, actually, that gap is a kennel. You see, 'Boss' needs somewhere to rest during these busy days of keeping up with Gerrard. Noting that as well as operating his two retail stores and keeping up with the chocolate supply, he's also training for 2024, where he is attempting to be the first blind person to swim across the English Channel - classic Gerrard. 
Do, as other guests do - and give 'Boss' a pat and a cuddle. It's a win-win moment.
Chocolate Moments is a sensory experience, in the most inviting of spaces, with the friendliest faces. 
It could be argued it's an unusual location to place such a cafe, although it's clear 'Brisbanites' are keen for something more wholesome and unique, that can provide an escape from the monotony of Monday to Friday, or the usual weekend cafe fanfair. 
I reflect now and smile . Gerrard's vision has arrived. Chocolate Moments in Albert St is picture perfect, and delivers the most memorable of occasions.  
My life is all the sweeter and richer, thanks to our introductions and collaborations with Chocolate Moments, Gerrard, and Heather. 
We are part of something special. We know that, and we are truly grateful for this.  
Are you ready to immerse yourself in a Chocolate Moment? 
Carpe Diem.
Life should not be measured in minutes, but rather, measured by moments.