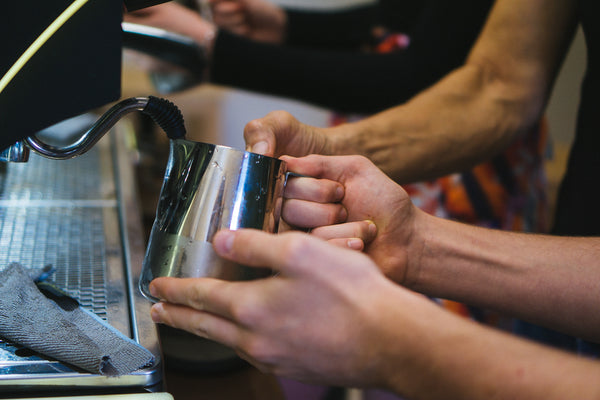 Journal
Barista Training with Competition Winners
At Montville Coffee we champion the life changing power of education and training. So we jumped at the chance to offer the winners of a youth writing competition run by the Hinterland Times, a personalised two hour Barista Training course. 
We had a wonderful morning on Thursday with competition winners, Angelique and Latisha, and young local Luke, in our training kitchen. Our visitors began their training with talk of 'rituals', because preparing a beautiful quality coffee recipe, consistently is always a ritual! We talked about connection through coffee and enjoyed the sentiment that came with the familiarity of young locals who knew our brand.


Over two hours, Angelique, Latisha and Luke completed our two hour Barista Training course with experienced trainer and co-founder of Montville Coffee, Karen Barnett. The course covered effective workplace hygiene practices and delved into the in-depth world of the coffee espresso menu.
The young locals worked with our Fairtrade, Organic Sunshine Coast Blend, an easy to drink coffee, with adventurous caramels and gourmet chocolate notes. Angelique, Latisha and Luke worked through each of the basic elements for creating excellent espresso beverages and pouring textured milk for a variety of styles of coffee. At the end of the training session the group explored the Coffee Tasters Flavour Wheel and discussed some of our coffee origins and how factors such as climate and local growing conditions play a role in the taste of coffee. 
For Angelique, Latisha and Luke, this course will be an excellent and practical foundation for entry into barista work in the hospitality industry and this makes us happy!
We love offering training to youth entering the workforce and thoroughly enjoyed our time with Angelique, Latisha and Luke.
Check out our website for more information on courses and training...