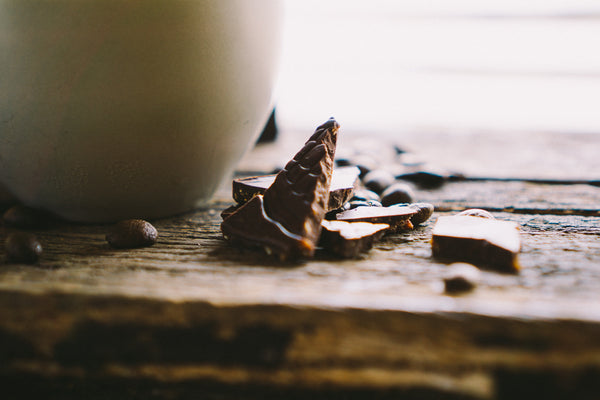 Journal
A Fairtrade Coffee and Chocolate Pairing Guide
For An Adult Easter
Because we think chocolate and coffee pair fantastically together, we have done the terribly hard work of putting together an Adult's Easter Chocolate and Coffee Pairing Guide. This guide features some of our favourite Certified Organic Fairtrade brews and the fabulous Certified Organic Fairtrade chocolate from Bennetto.

This is a guide for chocolate and coffee lovers who want to put their hearts into it. Choosing to buy Certified Organic Fairtrade Chocolate and Coffee is a treat that connects the dots between the confectionary aisle and extreme poverty.

Support Fairtrade and empower millions of farmers and workers around the world by tackling poverty and poor working conditions as well as conserving the environment.

See the guide below or for more information about buying Fairtrade Chocolate in Australia, go here.
Bennetto Chocolate and Montville Coffee Pairing Guide
1) Toasted Hazelnut & Sunshine Coast Blend
Delicious Peruvian dark chocolate with toasted hazelnut pieces paired with Sunshine Coast's buttery chocolate, caramel, and almonds.

2) Raspberries In Dark & Blackall Range Blend
Rich dark chocolate and raspberry pieces with Blackall Range's bright fruits, lemon myrtle and honey.

3) Orange With Chilli & Woodford Blend
Peruvian dark chocolate, sweet orange zest and a hit of chilli with Woodford's ripe cherries, clove, nutmeg and malty molasses finish.

4) Salted Caramel in Dark & Frederick Blend
Rich dark chocolate and salted caramel pieces made of almond butter with Frederick's bold caramel, roasted fig and panella. 

5) Intense Dark & Sumatra Single OriginPure dark chocolate and subtle fruit notes with Sumatra's dark chocolate, dried cranberry and star anise.