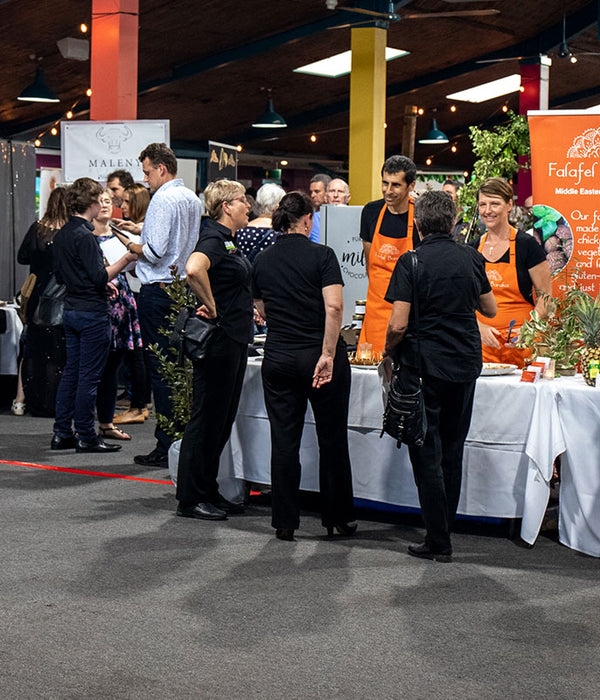 Journal
Meet the Makers...
Working at Montville Coffee has always been about much more than pouring delicious coffee into cups. We are passionate about collaborating with others to make our beautiful Sunshine Coast Region a thriving and sustainable place to work and live. 
For many years, Montville Coffee has grown in and is nurtured by a thriving eco-system of growers, makers and producers who work here on the Sunshine Coast. The organisation that gives shape and pulls us all together is the Food and Agribusiness Network (FAN). One of the major events that we all look forward to is Meet the Makers when we all get together to showcase our produce and products and sample some amazing food. 
Montville Coffee collaborating with Kandanga Farm Store Cafe
Our contribution to the amazing food and beverages at "Meet the Maker" is our delicious Cold Brew Affogato featuring either Coyo Coconut and Maleny Fine Foods Vanilla ice creams and our rich chocolate brownie. Nothing beats the decadence of a double choc brownie, and when it's teamed with bold coffee and rich ice cream it makes for a match made in foodie heaven. Recipe Here 
The event – Monday 15 March 2021 at the Sunshine Coast Airport, connects 80 food and beverage businesses from the Sunshine Coast, Noosa, Gympie and Moreton Bay with local, state and national food retailers, distributors and industry stakeholders – making it South East Queensland's largest independent food and beverage trade event.
Food and Agribusiness Network (FAN) CEO Emma Greenhatch said the event creates valuable commercial connections and opportunities for its members and the wider food and beverage industry.
"Meet the Makers 2021 showcases the amazing array and diversity of products and produce that is made here on the Greater Sunshine Coast – to a wide group of industry buyers and supporters," said Ms Greenhatch.
"This event aligns with the strategies of FAN, and other regional stakeholders including the Sunshine Coast Airport and the Sunshine Coast Council to make the region the Australian epicentre for scaling food and beverage manufacturing businesses through an ecosystem that drives collaboration and innovation."
Coffee Flavoured Collaboration with Noosa Happy Pops