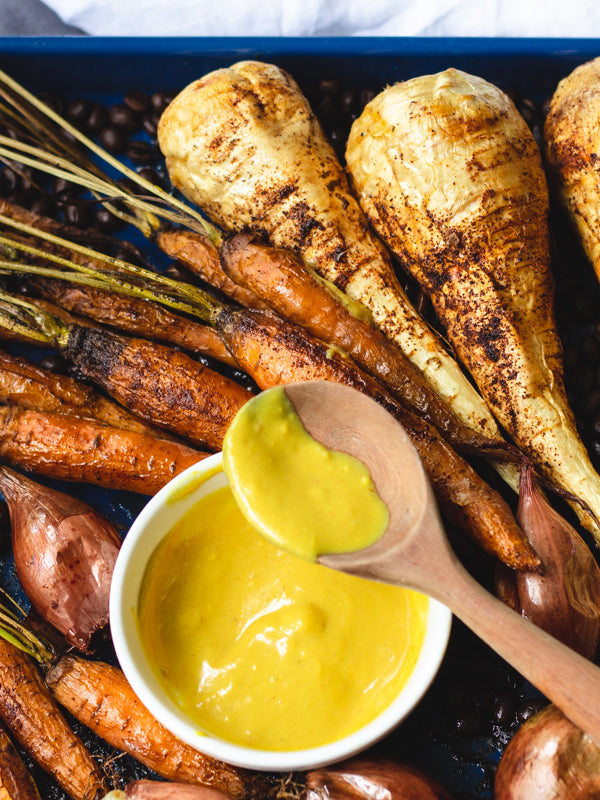 Dinner / Australian
Smokey Roasted Carrots on Coffee Beans
We create a whole new tasting experience with coffee when we use it to give savoury flavours a lift. This recipe is adapted from Daniel Patterson's Restaurant in San Francisco's North beach. If you love sweet, smokey, and earthy flavours, be sure to make this easy recipe.

The flavours are subtle, and it's a fun easy recipe to try. I used dutch carrots, for their thinness and added some parsnips and onion shallots. I served them with a green salad with rocket.
Ingredients
["Two bunches of dutch carrots","additional root vegetables (optional)","1 cup of coffee beans","1 teaspoon Paprika","1 teaspoon Turmeric","pinch of salt flakes","30 ml olive oil","15 ml of any mustard on hand (I used french mustard)","15 ml of yoghurt","2 dashes of white wine vinegar","5 ml (or more) of peri peri sauce","5 mlof water"]
The perfect coffee
Full bodied, full flavoured coffee to complement the sweet, smokey, and earthy flavours of this dish.