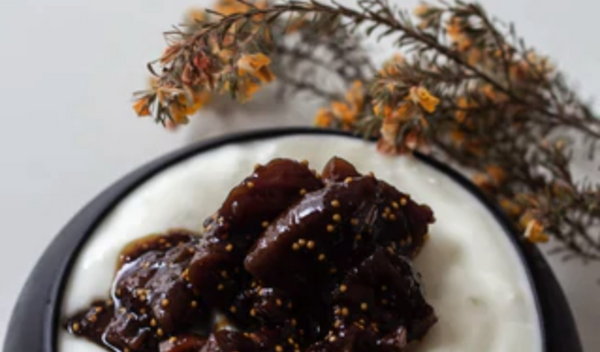 Recipes
Spiced Coffee & Fig Compote Recipe
This condiment is an old favourite at Montville Coffee. Try it on a bagel with cream cheese, with greek yoghurt for breakfast, or with vanilla ice cream for an after dinner treat. 
We think it would be a wonderful accompaniment for your Mother's Day breakfast. 
From Kashmira:
This was such an easy recipe to make and I was pleasantly surprised by the incredible bursts of caramel and molasses. I can imagine this with would go beautifully pairing with vanilla flavours like Maleny Food Co Vanilla Ice cream and vanilla scones with Maleny Milk cream. Yum! This is excellent paired with the Fredrick Blend. I hope you enjoy making this as much as I did!
Ingredients
1 1/2 cups brewed coffee - We used a Drip filter
200 grams dried figs stem removed and figs quartered
1/4 cup local Australian Honey
1/2 teaspoon cinnamon
1/8 teaspoon cardamom
1/8 teaspoon cloves
1/8 teaspoon nutmeg
1 teaspoon orange zest
Cooking method
In a medium-sized pot combine the brewed coffee, quartered figs, honey, spices and orange zest. Bring to a boil then reduce and simmer for 20 minutes. 
Remove figs from pan. Simmer the liquid for an additional 5 minutes over low heat until reduced and syrupy. Combine figs and syrup and allow to cool to room temperature on the counter. Then transfer and store in a jar and refrigerate until ready to serve.
Check out our Espresso french toast recipe