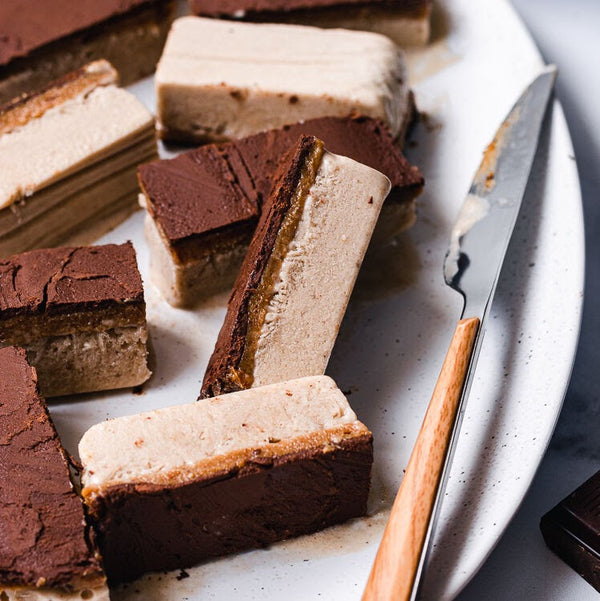 dessert / Australian
Caramel Coffee Ice Cream Bars
One of our favourite things is when we can collaborate with local businesses. We  were weekend-neighbours with Mooloo at the annual Sunshine Coast Meet The Maker Food and Beverage Festival.
 
Millie Mae founder of Mooloo took the time to give us a lovely insight into her passion for Ice cream:
What makes Mooloo unique?
I'm an environmental scientist and a nutritionist, so when I had the idea to make ice cream, I wanted to create something that was delicious, good for our health and the planet.
I found that coconut was the most eco-friendly ingredient and is deliciously creamy. It's way better for the environment than using dairy. Coconuts are packed with nutrients, antioxidants, and good fats, and every pint of Mooloo we make uses far fewer litres of water than dairy ice cream.
Mooloo has unique, organic ingredients that offer our customers added health benefits. For example, our Wild berry is infused with antioxidant rich wholefoods like strawberries, goji berries, blueberries and acai berries.
I discovered that most brands also 'cheapen' their product by pushing lots of air into the ice cream while it's being mixed.  So I made sure Mooloo is traditionally made to be a super premium ice cream. We don't pump air into our ice cream to ensure it's got that unique melt-in-your-mouth creaminess, smoothness and a rich taste in every spoonful.
What type of experience do you love to deliver to customers?
We love that Mooloo takes the guilt out of ice cream. It's a healthy treat with all-natural ingredients, and is gluten, soy and dairy free - so everyone can enjoy it! You can literally eat your ice cream for breakfast.
What do you love about working on the Sunshine Coast?
I am a surfer, so I love that we have some of the most stunning beaches in Australia right in our backyard. With the sun and surf culture, leading a healthy lifestyle is rooted into Sunshine Coast living, so we have this amazingly innovative and healthy food culture here. The business support is incredible. Everyone is quick to support local businesses. I feel very blessed to live and work here.
This decadent dessert is a delicious and healthy ice cream alternative that anyone can enjoy! Millie says, 'it is gluten, dairy, refined sugar and soy free, so keep it aligned with our core values'.
Ingredients
["300ml Mooloo coffee flavoured nice cream","7 large medjool dates, pitted","60g peanut butter","60g dark chocolate (70%-85% cocoa)","2 tablespoons cocoa powder","2 tablespoons alternative milk"]