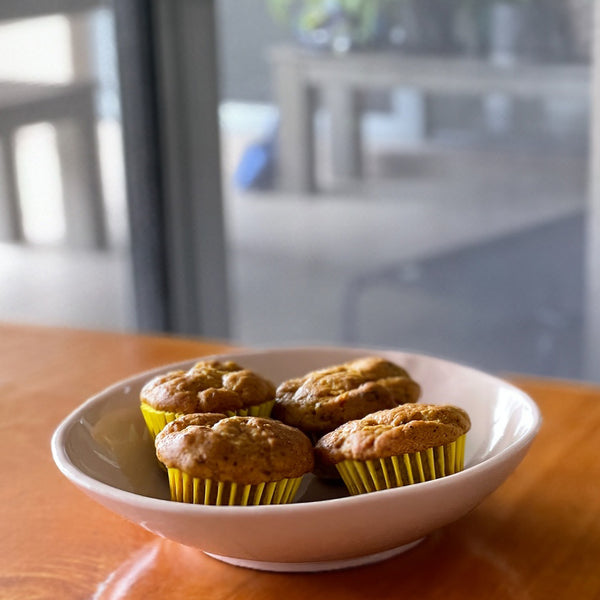 breakfast / Australian
Healthy Pumpkin Muffins
Wholesome. Delicious. Ideal for an Autumn Mother's Day breakfast. Oats, honey, pumpkin and warming spices, including cinnamon, ginger and nutmeg - a treat packed with protein. Amazing with a steaming pot of Woodford.
You could really go crazy with add-ins here. After stirring in the flour and oats, gently fold in up to ¾ cup chocolate chips, chopped nuts like pecans or walnuts, and/or some chopped dried cranberries or crystallised ginger.
These muffins are great on their own, with a pat of butter, or spread with almond butter. They would also be fantastic with homemade pecan butter or coconut butter.
MAKE IT VEGAN: Use maple syrup, flax eggs and non-dairy milk.
 Adapted from recipe on Cookie + Kate
Ingredients
["80ml melted coconut oil or extra-virgin olive oil*","120ml maple syrup or honey","2 eggs, at room temperature","250g pumpkin purée","60ml milk of choice ","2 teaspoons pumpkin spice blend (or 1 teaspoon ground cinnamon, ½ teaspoon ground ginger, ¼ teaspoon ground nutmeg, and ¼ teaspoon ground allspice or cloves)","1 teaspoon baking soda","5ml vanilla extract","½ teaspoon salt","1 ¾ cups whole wheat flour or good quality gluten free flour mix","⅓ cup old-fashioned oats, plus more for sprinkling on top","Optional: 2 teaspoons raw sugar for sprinkling on top"]
The perfect coffee
The nutmeg and other spices in the muffins will highlight the spiciness in this full bodied strong coffee