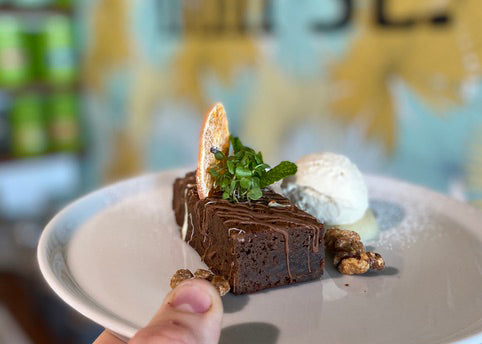 Recipes
Cold Brew and Cacao Brownies
Beautiful local food, prepared with care 
We love Mill Street Kitchen and Pantry in Nambour. They are a business with a purpose. Owner and Chef James says, 'The type of food we do is not by chance. We LOVE LOCAL!' For him local is not a fad. Ever since he was young he understood the importance of using produce around you. Mill Street Kitchen is homely and welcoming and quite unique, because it is located in a beautiful heritage listed building. James says 'the feeling of this can not be underestimated'. We agree. Eating here is a warm and friendly experience, with tasty, imaginative food that stays true to classic recipes. 
James and Hayley (owners), work hard to build relationships with their producers and they want their cafe and shop to have an old fashioned feel. No big supermarkets here. If you are after a beautiful meal or need to pick up some essentials, Mill Street Kitchen and Pantry is your place.  Check out Mill St Kitchen and Pantry here.
Mill Street Kitchen has kindly shared a pretty special recipe with us. If you love indulgent, no nasty treats - see below. It is guaranteed to satisfy you.