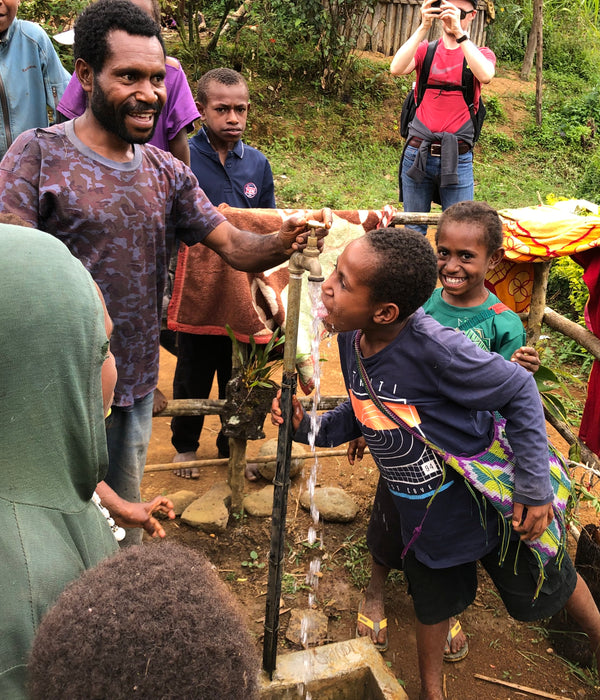 Journal
Why we choose Fairtrade Certified
We believe in the power of choice. Choice to make a better decision. We felt the need for coffee that is not only Certified organic and Fairtrade but also award-winning specialty coffee. We wanted a coffee that we could connect to, and so we embarked on this journey that has become our story. On our journey we were able to connect the quality of coffee with the quality of life for our coffee farmers.
When we officially became Fairtrade Certified, we were the second coffee business in Australia to do this at the time. This was in 2002.
Fairtrade comes at a cost to us. So, why is Fairtrade so important to us? We believe the principles of Fairtrade are the way forward for businesses. 
What makes Fairtrade so different?
1. Workers are paid a Fairtrade minimum price, which means farmers are less at the mercy of market fluctuations.
2. Unannounced audits help to stamp out child labour.
3. The Fairtrade Premium we pay goes towards building schools, communities, roads, and environmental protection. 
Over time we have successfully connected the quality of specialty coffee with the quality of life for our farmers. Our commitment to Fairtrade means that you can be assured that your coffee is ethical and sustainably sound. Our relationship with Fairtrade Australia and New Zealand is now coming on 18 years long and we couldn't be more proud of our journey. 
Kris McDonald - Head Roaster in the coffee greenhouse PNG
We traveled to Papua New Guinea in 2019 and 2015 to meet with HOAC (Highland Organic Agricultural Cooperative) and to learn about the challenges facing these coffee-growing communities. 
Pulping machines - farmers demonstrate pulping process
HOAC distributes pulping machines to many farmers, significantly reducing the hard labour, of separating the cherry from the bean from 2 days down to just 15 minutes. 
Clean water access
Pipes have been installed through rugged terrains to provide clean drinking water to many remote villages. 
Kris McDonald - Head roaster meets the headmaster of the elementary school in the Highlands of New Guinea.
This becomes even more important with the threat of the changing climate.
The Fairtrade Standards emphasize ensuring farming is done sustainably and this includes mitigating the impacts of climate change. Some of the Fairtrade Premium is spent on environmental protection programs such as reforestation or energy-efficient cook stoves. 
What does this mean for you?
In supporting this movement you are supporting a just future for all. When you make the decision to purchase Montville Coffee, you are choosing sustainable practices that help to protect our environment; you are supporting gender equality; you are protecting children from child labour; and you are supporting fair pay for workers. 
Make sure you head over to our blog to read how a Fairtrade coffee subscription helps our farmers. 
Producing quality specialty coffee
We have successfully created award-winning specialty coffee while contributing to the quality of farmers' lives. Fairtrade not only works on reducing poverty, and creating equality but it works on the quality of coffee through best-practice systems, organisational structure, and education for farmers. 
The last 18 years have also been an education process for consumers to understand the importance of Fairtrade. We continue to encourage consumers to continue to look for the Fairtrade certification logo when shopping. 
Why is it so important to look after farmers overseas, when we have our own problems in Australia?
We share one planet and can choose to support farmers wherever they may live and work. By choosing fairness we can make changes that will ultimately cause a ripple effect and the lives of everyone will improve.
10 Reasons to support Fairtrade
Fairtrade provides a fair price to farmers who grow the things we love

, covering the cost of sustainable production and an additional sum of money to invest in community or business projects.

Fairtrade is good for the environment

 - Fairtrade supports sustainable farming practices which help to minimise our environmental footprint.  The Fairtrade farmers that grow coffee for Montville Coffee are also Certified Organic.

Fairtrade is safe

 -  Fairtrade has standards that protect worker's rights and promote good health and safety practices.  Fairtrade has a list of harmful chemicals that are banned from production.

Fairtrade supports communities

. By working through cooperative structures, Fairtrade farmers and workers are able to invest Fairtrade earnings in their communities, improving housing, healthcare, and schools.

Market access and fairer trade

 - Fairtrade is about doing trade differently. It empowers farmers and workers to take control of their lives, businesses, and communities through trade. Fairtrade also enables businesses – and through them, consumers – to understand the whole supply chain because it is tracked from producer to buyer.

Fairtrade promotes gender equality

 - Fairtrade believes the role of women in agriculture needs more visibility, recognition and value, and that gender equity is important to social sustainability. Currently, 350,000 women farmers and workers are part of Fairtrade, a quarter of the total.

Fairtrade is about quality and productivity

 - Supporting farmers to improve the amount of crop they produce and its quality are important for sustainable livelihoods. It means farmers can earn more from what they produce to become more economically stable and more reliable suppliers.  

Fairtrade means what you buy matters -

 By choosing Fairtrade products, you are not only accessing high-quality products, you are making a difference in the lives of the people who grow the food you eat and the goods you use.

Fairtrade sets standards -

 Fairtrade Standards social, economic and environmental standards that are set for both companies and the farmers and workers who grow the food we love. For farmers and workers, the standards include protection of workers' rights and the environment, for companies they include the payment of the Fairtrade Minimum Price and an additional 

Fairtrade Premium

 to invest in business or community projects of the community's choice.

Fairtrade supports farmers to implement climate change adaptation measures

. The Fairtrade Standards promote sustainable development through best agricultural practices, which not only guide producers to adapt to climate change, but also encourage them to mitigate their impact.
Welcoming ceremony PNG 2019
Check out our Journal on our trip to PNG in 2015