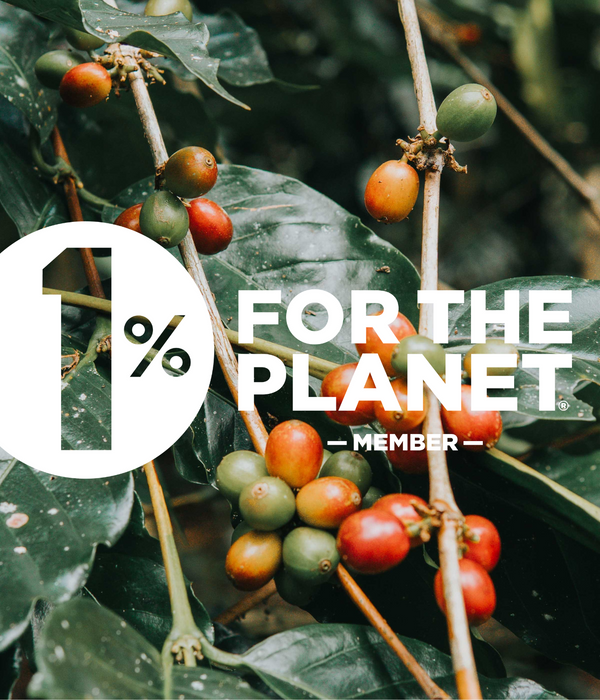 Journal
We've joined 1% for the Planet!
Certified organic coffee grown under shade trees in Sumatra.
Co-founded by fellow B-Corp Patagonia's Yvon Chouinard, 1% for the Planet aims to prevent greenwashing by certifying reputable giving and providing accountability. The 1% for the Planet certification is given to businesses and individuals that meet their high-bar commitment—donate 1% of annual sales or salary to recognised environmental causes. Turns out we were already doing this through our long-term work with Fairtrade ANZ. But now we're certified. 
We really support what 1% for the Planet is doing! Only 3% of all philanthropic donations go to environmental causes, and we aim to change that. Coffee is a product that is hugely impacted by climate change and environmental degradation. We've already seen prices rise this year in response to increasing environmental challenges. 
We see joining 1% for the Planet as an opportunity to renew our environmental commitments and expand our platform for engaging people on these issues. And, to showcase to other businesses that it's not that hard to contribute! If you can just give 1%, you've already taken a huge step. The cool thing about 1% for the Planet is that you aren't just donating into 'the ether' into some generalised fund, you get to directly partner with an environmental organisation of your choice, and work with them 1 on 1 to see your impact. 
It's such an exciting time to be in business!
 For more information about 1% for the Planet, visit their website here.