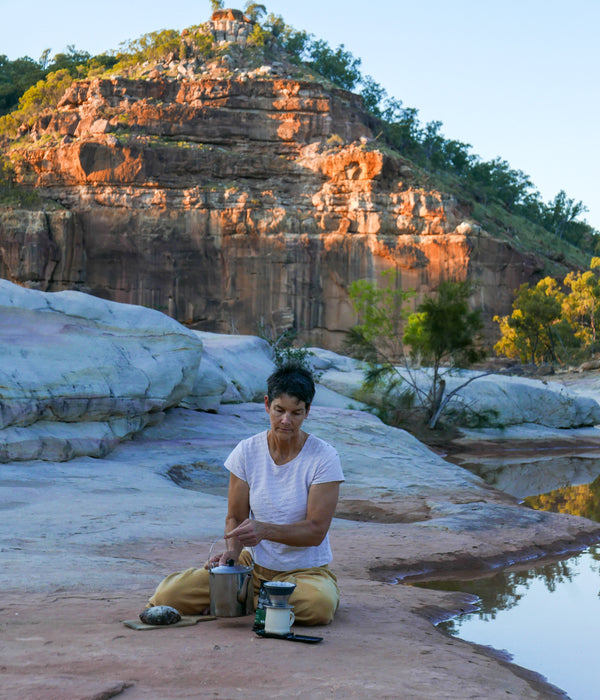 Journal
Emerald, the nomad
Karen and Lucie packed a few bags of Emerald and set off across central QLD on an unforgettable, mother-daughter road trip. 
Why Emerald? She changes with the seasons, she's nomadic, curious. But still always a familiar taste of home.
Cairns.
Rusty's Market. Pawpaws & mangos as far as the eye can see. Capsicums, zucchinis, stacked in towering pyramids. Rows of bananas, bunches of spinach. Avocados, balancing precariously. Crates of tomatoes unloaded and wheeled through the aisles. We load up the car.
Fresh pawpaws, Coyo & homemade granola (recipe here). Emerald's on the stove
'Oasis' Roadstop
"The toilets are closed", calls a voice from behind us. Tammy, retired, solo road-tripper tells us about her travels  as we brew up Emerald in the Aeropress. She's part of "Rolling Solo" - Australia's largest all women's camping, adventure and roadtripping community. (You should check them out, they're actually super cool https://www.rollingsolo.com.au/). I've misplaced my hard boiled egg. Tammy gives me one of hers. 
Porcupine Gorge
We pull in just before sunset. Eager to move our bodies we head off down the trail,torches in our pockets. We get to the bottom and are stunned. Having spent the morning learning about lava tubes in Undara, we figure we've got this geology thing figured out. But this landscape is a whole new ball game. We've found ourselves in Australia's own Grand Canyon. One of the first things we notice is a huge pyramid down the far end of the pools, an isolated monolith of sandstone.
The sky turns pink and then deep red.
Brewing Emerald in Porcupine Gorge
Longreach 
We've somehow been roped into a scarecrow making workshop. Not attending it - hosting it. We're staying with mum's good friend Heather - a woman of extraordinary talents with fingers in every pie. Including the scarecrow pie. I ask Heather why she drinks decaf, she tells me she doesn't need any more energy. Honestly, she's not wrong.
 Heather with her coffee picking mulberries from Longreach's community garden.
Barcaldine
It's hot. Like, really hot. The kind of hot where you're doing laps of the grocery store pretending to look for something because you don't want to leave the air-con. We visit the Tree of Knowledge - a memorial to remember the 1891 shearer's strike; the beginnings of the Labor movement in QLD. I stand in the same place where the strikers planned their meetings, look up at where the tree used to be and thank them, knowing that the work I'm doing for human rights is only possible because I'm standing on their shoulders. 
Lucie under the "Tree of Knowledge" in Barcaldine
Montville
Home. We drive up the range and can hardly see 1m in front of the car; its 6pm and thick fog has set in. I can't wipe the grin off my face - we've driven through so many landscapes but it's this magical, misty paradise that is the most familiar. I'm so grateful to call Montville home. 
Wherever you go, bring Montville with you.