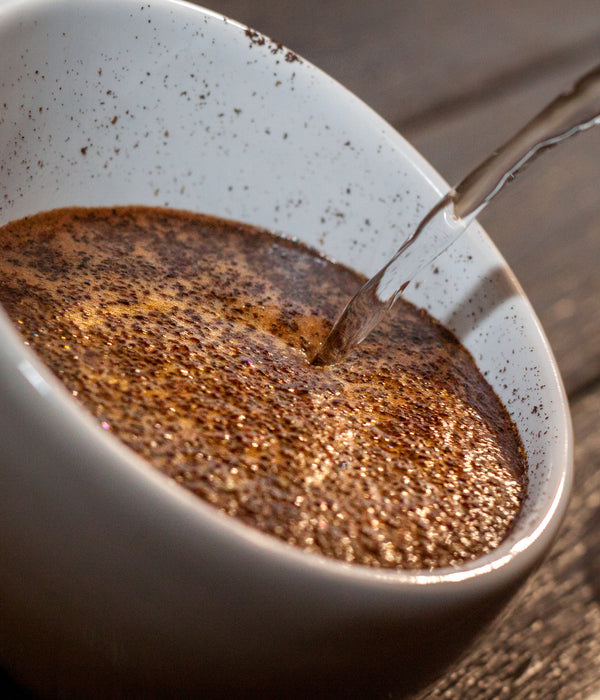 Journal
Meet the Maker Conversation
Sunshine Valley Gazette has been featuring a series of Meet The Maker Interviews. The latest one features our co-founder Karen Barnett.

Montville Coffee's Fairtrade ethos helps iron out the inequalities in supply chain.

Founder Karen Barnett roasts Certified Organic and Fairtrade specialty coffee for distribution to coffee lovers around Australia.
We asked Karen about the great local business she established in 2000.
Apart from the smell of fresh brewed coffee, what gets you out of bed in the morning?
Our purpose is to create a great product for Australians while supporting coffee producers and their communities to thrive.
 
How did you get started in coffee?
As a high school teacher, I had been using case studies of Fairtrade and ethical businesses to inspire students in my classes. I wondered if it was actually possible to build a local business that championed sustainability and organic production. Coffee is a product that brings people together but also has so many challenges and inequalities in it's supply chain. The perfect challenge to start a business with!
 
Best thing about what you do?
We have been buying green coffee beans from some of the same cooperatives for nearly two decades. It has been so rewarding to see that being part of the Fairtrade certification really does make a difference.
 
We have seen women coffee producers move out of the shadows and becoming involved in science and technology workshops; young, educated producers taking advantage of training in climate adaptation leadership; and the Australian people becoming involved in understanding why it is so important to value and pay our food producers fairly whether they are farming in our own region or across the globe.
 
What does it mean to you to be a local maker?
It means I am part of a thriving ecosystem of local makers and producers who are all contributing to the strength and resilience of the Sunshine Coast Region.
 
Where can we buy Montville Coffee?
Local IGA's and independent food stores and online through our website
 
Your favourite way to drink it?
The Blackall Range Blend, freshly ground and then brewed in a plunger, enjoyed black with a homemade shortbread biscuit.
 
What's next, any exciting plans?
We have outgrown our site in Montville so are moving and building a new Coffee Roasting facility.
 
Favourite other local products?
Oh, so many! Right now I'd love some Mountain Top Mushrooms on Ten Acres handcrafted sourdough bread with a salad full of greens grown by Good Harvest Farm.
 
What is it about the Sunshine Coast Hinterland that gives you inspiration?
The incredible natural beauty of this area.
 
Pictured: Karen Barnett …
 
It has been so rewarding to see that being part of the Fairtrade certification really does make a difference.