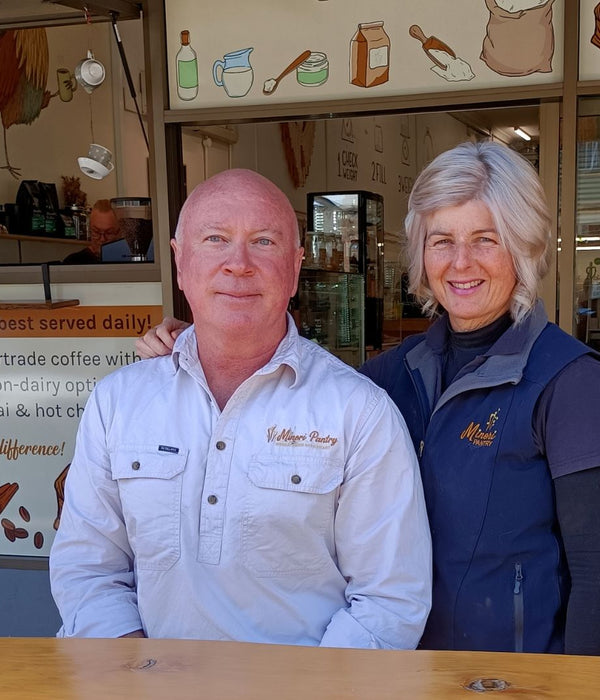 Journal
Minori Pantry - Health and Vitality in the Heart of Kyogle
Step into the charming town of Kyogle, nestled in the picturesque Northern Rivers region of Northern New South Wales, and you'll discover a hidden gem - Minori Pantry.
This is where Brendan and Tinky have not just made their home, but they've also cultivated their dream, Minori Pantry, a place that embodies their passion for community, health, and well-being. Humble and modest, they might never tell you openly, but their cafe and retail store are breathing life, vibrancy, and a fresh perspective into a community undergoing growth and a shift towards progressive values.
Before the inception of Minori, Brendan and Tinky had a vision to make a meaningful impact on their community, although they had no prior experience in the world of retail. It was a challenge they embraced with determination and a fast learning curve.
In the year 2021, recognising a gap in the Kyogle market, Brendan and Tinky launched Minori Pantry, a one-of-a-kind food and retail haven, focusing on organic, biodynamic, spray-free, and vegan products. It was a venture aligned with their own values, embarking on an exciting journey.   
Montville Coffee fondly remembers the early days of our partnership when we conducted Barista training together. The joy and commitment to excellence were evident in Brendan and Tinky's eyes, as they aimed to deliver a consistently memorable cup of coffee to their customers, day after day.
These strong values of excellence have become the cornerstone of Minori Pantry, evident in every facet of their offerings. With over two years of trading behind them, Minori continues to expand its range of products and services.
Their store now boasts house-made peanut butter, a wide array of bulk foods, wholefoods, fresh produce, bulk cleaning products, personal care items, and a unique collection of giftware. The café menu features fresh, wholesome delights, with breakfast and lunch dishes prepared on-site and beautifully displayed in the cabinets. You're welcomed to relax in the inviting indoor and outdoor seating areas, where you'll often find yourself engaged in conversation with like-minded folks or their friendly staff.
If you're a local in the Northern Rivers region, Minori Pantry is a must-visit, offering a delightful cup of coffee, nourishing meals, and all your pantry essentials. Travellers passing through will find their every need met, from nomads looking for a wholesome pitstop, to families seeking nutritious sustenance on their journey.
Minori Pantry is your go-to destination if health, vitality, and transparency in your food choices matter to you. In the words of Brendan, "If we wouldn't eat it, we wouldn't serve it to you."