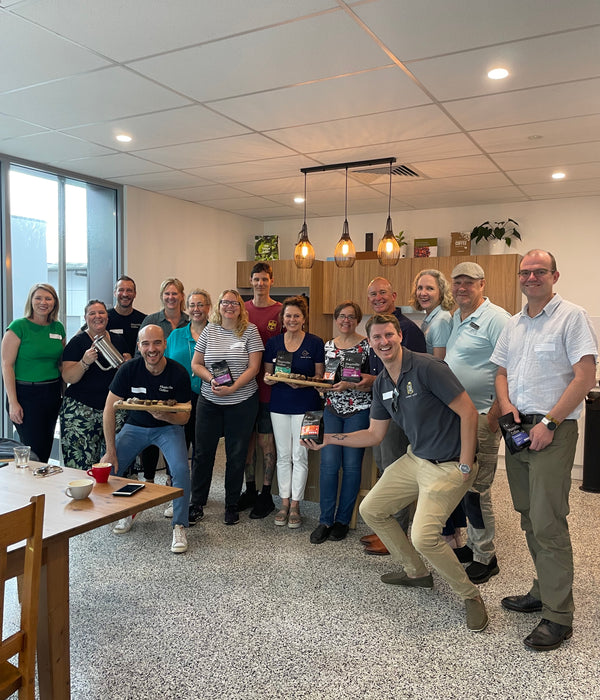 Journal
Building Connections, one cup at a time
Coffee has a way of helping us build connections, that lead to a sense of belonging.
It's the year 1998 BC (before Covid). I was up and about after establishing a new friendship, and excited that we were so like-minded in many ways. Both keen drama students with a similar CD collection, and a thirst for life.
Aged 15 then, I was adventure bound when Nick invited me to 'do coffee' tomorrow morning at a local café.
Even though I had never, 'drunk coffee', so I had no idea how on earth you 'do coffee', I felt obliged to fit in and went along for this café-coffee crusade thingy.
The following morning, a little sheepishly I gently swung the café door open and tried to enter inconspicuously.
Oh; what a world I'd come across.
The place was abuzz and I immediately fell in love with this space and its ambience.
It was a quintessential 90's café in suburban Melbourne filled with quirky characters.
People were chatting across tables, the baristas and chefs were having a banter, and the music was hip and trendy. The clang and crash of crockery hitting saucers echoed about, and fruit toast with almond butter sprinkled with icing sugar was being crunched upon aplenty.
I so desperately wanted to fit in, and it felt like 'I belong here'.
So, I took a seat near the window. Damn it, poor choice!
There was a benchtop of newspapers on the other side of the café I'd walked straight past and everyone else who was sitting alone with their coffee seemed infatuated with the day's news, sipping indulgently their morning brews amongst the noisey backdrop.
I stood out like a sore thumb with my school bag at my feet at an empty table.
The waiter approached a few minutes later and asked, 'What can I get you?'
I suddenly felt my heart drop, my eyes widen, and my bottom lip fell a little.
Me: 'Umm, just a white coffee please'. That's what Dad drinks when he has coffee at home I thought.
Waiter: 'A flat white'?
Me: Totally bamboozled by that I said, 'Sure!' because that sounded about right.
Phew, 'that escalated quickly' I thought to myself.
Thank goodness my friend Nick arrived moments later. He however swung the door open with one foot and nodded his head to Charlie (the barista) who nodded back. Nick acknowledged the room with a smile, and they smiled back, and then he seemed to moonwalk his way over to our table. It was so cool that I think I blushed. 
He didn't even need to order his coffee. Turns out 'the nod' was enough to get Charlie onto preparing his cup of Joe.
So back comes the waiter.
Waiter: 'Flat white for you mate'
Relief set in for me as it looked milky and palatable.
Waiter: 'Café Latte for you, Nick.' Followed by an affectionate pat on the back.
Damn it again! It's like the café doesn't even exist without him. Everyone knows his name, is somehow waiting for him to arrive and he gets to drink this fancy, see through coffee in a glass, with a soft creamy foam on top.
I've got order envy now too.
How could I ever belong here? 
Well, Nick kindly introduced me to the team at the Carpark Café in Kew, so I was welcomed formally by all with a handshake and a warm greeting I'll never forget. Seeing that I was being initiated, when we left the café that day, patrons all lifted their heads from the newspapers, or shared a glance mid-sentence with their peers to bid us farewell. I was now floating out the door I'd previously stumbled through, and my eyes glistened with glee when my parting nod to Charlie was reciprocated. 
I'm beginning to belong and making connections one cup of coffee at a time. 
Nick and I routinely visited that café every weekday morning for the next 3 years together until we graduated from high school.
Charlie came and went, as baristas do, and so too did patrons. We'd greet new ones warmly as they had done to me on the fateful day and new relationships would take shape. Existing relationships would strengthen over time as we knew more about one another. Where we work, and what football team we barrack for, or what new band we'd discovered.
It felt good to belong, and to connect with the community over coffee regularly.
Today, in April 2023 AC (after Covid) Montville Coffee relaunches it's collaboration with the Food and Agribusiness Network (FAN) to reinstate 'Coffee Connections'.
Coffee Connections is hosted by Montville Coffee and is a chance for any new FAN members across the 4 geographical areas of Sunshine Coast, Noosa, Gympie, and Morton Bay to come together over coffee.
It's a means of providing a safe and warm space for introductions and coffee is the ultimate disarmer.
We hope coffee, conversations and the subsequent connections can carve the way for a collaborative attitude, and a curiosity in one another's businesses and endeavours.
We trust that long term quality relationships can be stirred from these humble greetings over coffee introductions.
We choose to host these coffee connections in the spirit of ensuring that all new members to the FAN network can immediately feel like they too, belong. 
So, if you are new to FAN, and looking for where you could fit in, here's a nod to you.
Coffee Connections.