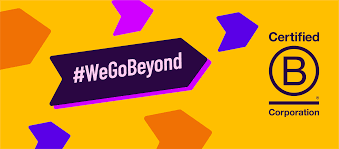 Journal
#WeGoBeyond - Profit Share
I recently had the pleasure of attending the BCorp Month Wrap Up Party in The Valley in Brisbane, organised by GoodNorth. What an energising night, surrounded by so many inspiring businesses, all committed to making a positive impact in the world.
One of the highlights of the evening was listening to Julia Spicer, Queensland Chief Entrepreneur, share her thoughts on the power of business with purpose creating change. She highlighted the importance of strengthening the support for and funding of female entrepreneurs and the need for stronger connections between rural entrepreneurs and the business-ecosystems in the more densely populated areas. 
Local BCorp businesses shared their own inspiring stories of making a difference. From a sustainably farmed lamb and beef brand to purpose driven marketing and consulting, it was clear that the BCorp network in South East Queensland is vibrant and leading the way in creating a more sustainable and equitable future.
On behalf of Montville Coffee I had the pleasure to share a few words on how #WeGoBeyond as a BCorp. The area I focused on was our ongoing commitment to profit sharing with the team. We strongly believe that beyond paying our team fairly for their roles within the business, when the business performs well, they should also share in the profits.

25% of the profits of the business, after fair renumeration of the team and owners, is shared among the team. The mechanism for distribution of this percentage of the profit among the team is determined by the hours each employee has worked as a proportion of the total hours worked by everyone. Since the introduction of the profit share arrangement we have now had the privilege of two successive years of sharing profits with the team.

I left the BCorp event feeling energised and inspired to keep pushing to do even more. At Montville Coffee, we remain committed to using our business as a force for good, and we are so grateful to be a part of such a supportive and inspiring community.

A big shout out to Luke Faccini and the team at GoodNorth and Sponge for organising such an amazing event. Thank you for bringing us all together and reminding us of the incredible power of business to create change.

Here's to a better world, one BCorp business at a time!