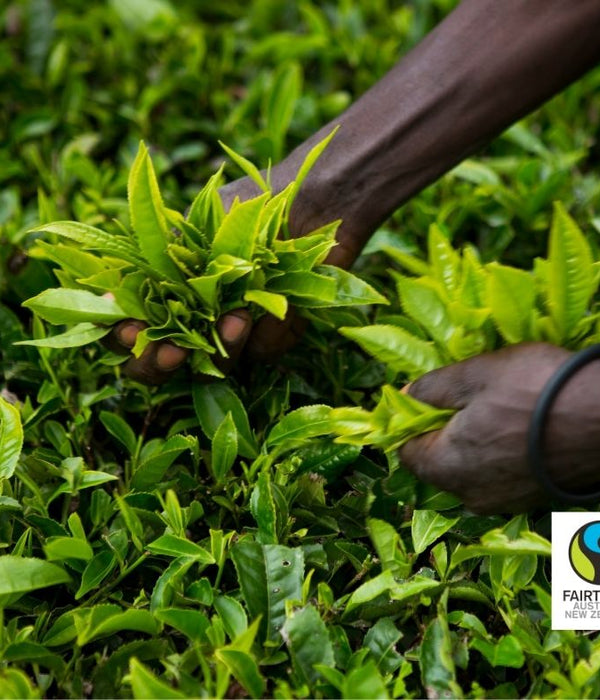 Small choices CAN change the future!
Like you, we care about what's going on with climate change. It's an issue that can seem so big that it's insurmountable and you can be fooled into thinking that small acts won't make any real difference.
But we believe it's up to each of us to do what we can – to recycle, to decrease our use of fossil fuels, and to buy products that are environmentally sustainable.
One way to achieve this is to buy our Fairtrade products. When you see the Fairtrade symbol, you probably just focus on the idea of fair pay, but Fairtrade actually works to make the whole global system fair – for people and for the planet.
Fairtrade does this by supporting their farmers to meet some pretty tough environmental standards around things like improving water and soil quality, avoiding the use of chemicals, reducing greenhouse gas emissions and protecting diversity. Fairtrade also supports its farmers through programs that help them adjust their practices in response to climate change like crop diversification and carbon trading.
Like Fairtrade, we are hoping for a fairer, cleaner future for all of the world's people.
What's the world you want?
For us, the world we want is one where the environment is taken care of for our kids (and generations to come) to enjoy.
We think you probably agree and that might even be why you support our business.
Fairtrade is 50% owned by producers who are making it known to businesses like us that climate change is the biggest issue they are facing. People like Ebrottié Tanoh Florentin, a cocoa farmer in Côte d'Ivoire, who speaks about the effects of the climate crisis on cocoa farming families.
'Climate change is a global issue. We, the farmers, have to deal with its consequences every day. For instance, this year we lacked food because of the heat. The production decreased this year too, so this affects the economy. People harvested less and received less money. So we all suffer from the negative consequences of the climate: it impacts the environment and our economy.
'There will be a food shortage because of the heat whereas, before, there were a lot of forests, the rains were regular and the seasons were well divided. It was easier. There were four seasons, now we don't know anymore when we should plant and when we should stop.'
'Climate change has an impact on crops which results in less money and food available. There is also a lack of workforce, because the cocoa farming is not profitable anymore. Young people who used to work with us do not come anymore. The farmer is left with his family, struggling to keep the production because of the negative effects of climate. These are the difficulties we currently face.'

Women grow 60-80% of the world's food
As well as it's environmental standards, Fairtrade works with communities to create the world we all want. They provide access to markets which buy goods at decent prices, empower women and ensure product improvement.
By working with Fairtrade farmers and producers, we're choosing to give people a fair deal because our ingredients are purchased by paying at least a Fairtrade Minimum Price, which is set to cover the sustainable cost of production, or the market price when it's higher.
Over and above the price, the Fairtrade Premium is also paid. The Fairtrade Premium is an extra sum of money we pay which goes into a communal fund for the workers and farmers who grow our products to use – as they see fit – to improve their social, economic and environmental conditions.
It's what sets Fairtrade apart from everyone else and why we are proud of the impact we all make together.
Choose the world you want
This fortnight is called Fairtrade Fortnight and we're proud to partner with Fairtrade and you to be a part of it. Together we're choosing a world where the environment is taken care of, women are respected and everyone is treated fairly.
When you shop, choose the world you want. Choose our Fairtrade products for a fairer future.