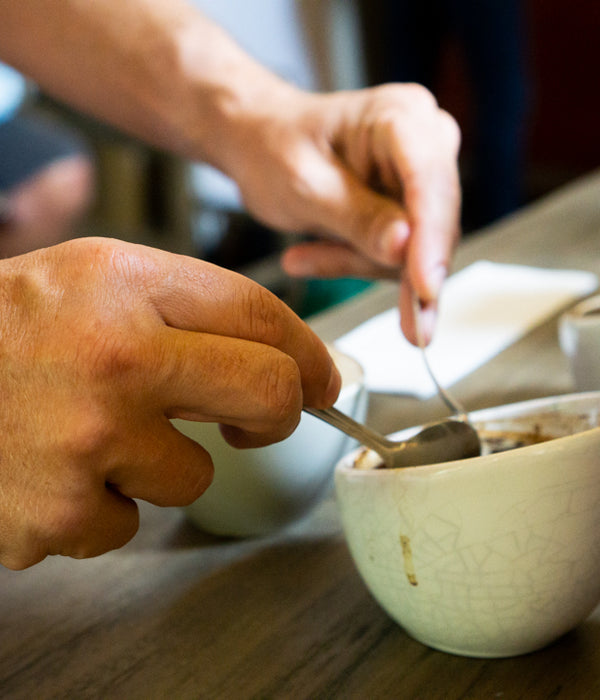 Journal
What's brewing at Montville Coffee Headquarters?
A journal of the delicious surprise we've been cooking up for you
08.11.21
Hey folks, we are hard at work here.

We have written ourselves a mission to create a coffee for the festive season, think spiced fruit, mince tart chocolate, cinnamon and a long, buttery shortbread finish.

The mission statement is written. The team have all presented their blend of choice. We've picked two.

We're going to workshop these over the next two or three weeks, and we're going to bring the Festive Blend Vintage 2021 to you shortly.

Can't wait.
15.11.21
Hey, folks, it's been a great morning at Montville Coffee.

We've continued to work on the Festive Blend and as you might remember,
we selected two that we wanted to work on.

We came up with really small variations in those blend ratios, and they produced phenomenally different qualities in the cup.

So we know small variations have big impacts.

One cup did stand out. It really started to focus in on those buttery shortbread notes and those spiced fruit mince notes that we're looking for.

Of that one cup, we again made two really small variations to the blend ratios

We are really pleased to share we've selected our festive blend vintage 2021.

We're going to share that with you next week.

Cheers.
17.11.21
Hey folks, I'm pleased to present the Vintage 2021 Festive Blend.

We've been hard at work and once we'd come up with the blend that we thought was just right for this year.

The next step was to pressure test that blend across all these different brewing methods.

I'm thrilled to say that whether you're working this Christmas or this festive season through filter, plunger, stovetop, aeropress or espresso, you'll find fruit mince, hot chocolate, cinnamon and a long, buttery shortbread finish.

I think you're going to love it.

This has been fun sharing with you and we look forward to hearing your feedback on this cup of coffee.
Cheers
18.11.21
The thoughts of a coffee expert taking the Festive Blend...
The Mocha Pot. Hmm.
Great depth, great body, beautiful front.
Espresso, caramelised sugar, lovely stone fruit, spicy fruit means tart.
That's a lovely espresso and should make a delicious long black.
Beautifully balanced.
It's a lovely coffee milk based.
Great coffee upfront, balances well, with the milk, the milk adds sweetness, but the body is still there, that's a great cup of coffee.

Cheers
22.11.21
G'day folks it is Sean here from Montville Coffee with the absolute privilege of formally releasing the Festive Blend Vintage 2021.

The whole team here have collaborated over this November period to produce for you a coffee which is filled with spiced fruit mince pie, chocolate, cinnamon and a long buttery shortbread finish.

We hope this helps you bring family together and share with friends over delicious coffee, that's 100% Fairtrade certified.

You can buy this directly through our web-store.

It's delivered directly to your door, and it is a terrific last minute gift idea.

So from all of us at Montville Coffee, enjoy the Festive Blend and have a wonderful Festive season.

Cheers.