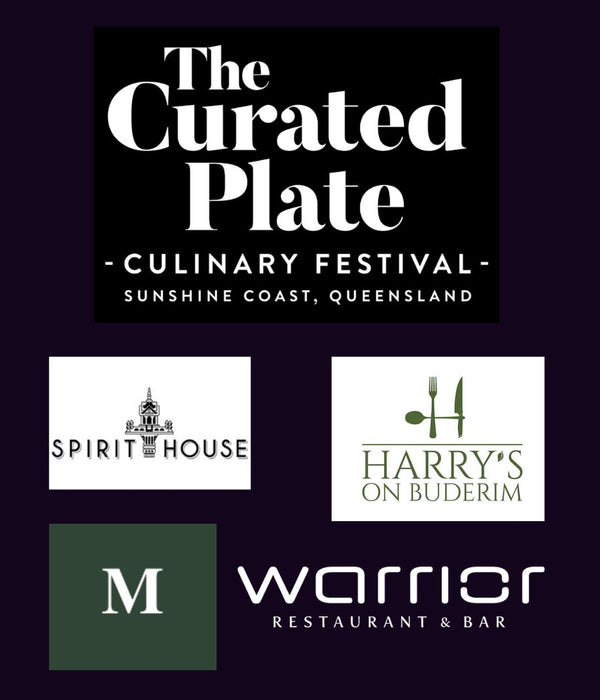 Journal
The Curated Plate - Four Quality Culinary Experiences
There is going to be a lot of FOODIE FOMO (Fear Of Missing Out) during The Curated Plate Festival here on the beautiful Sunshine Coast.
As we partner with some top-notch restaurants that will be featured as part of the ten day festival we wanted to make sure that you hear about these events now, when there is still a chance to book your tickets and have an amazing culinary experience.
In chronological order of events:
Date: Sunday 30th July 2023
Time: 11:30 to 14:30
Location: The Crocodile Hunter Lodge – Warrior Restaurant & Bar
Event name: 'Honouring a Legacy' [ticket link]
Why: The Warrior restaurant is one of those restaurants that should be on your fine dining bucket list. Executive Chef Craig Milnes aims to 'place the taste of Australia' on your plate, celebrating local produce and flavours. The dining experience is complemented by a warm ambience, beautiful outlook over native wildlife and friendly customer service that is second to none. Complete your culinary experience with a delicious Montville Coffee, the Warrior team serves our Sunshine Coast blend with excellence. If you can't wait, buy our Sunshine Coast blend online now and have it delivered straight to your door. 
Date: Monday 31st July 2023
Time: 19:00 to 22:00
Location: Mapleton Public House
Event name: 'Notes on: Winter' [ticket link]
Why: Celebrating the beautiful winter produce from The Falls Farm, a generative produce farm based in Mapleton, renowned Chef Cameron Matthews will be mentoring four next-generation chefs. Their brief is to generate new ideas, one course each around one winter vegetable, with protein only allowed as an accompaniment (less than 10 percent of the dish). The outcome will be a delicious four-course degustation that celebrates the power of community, the importance of sustainable agriculture, and the impact of good food on our lives.   
Date: Thursday 3rd August 2023
Time: 18:00 to 21:30
Location: Harry's on Buderim
Event name: '5 Farmers and a Chef' [ticket link] 
Why: Check out the video interview we recently posted with Harry's on Buderim 2 Hatted - Chef Owner Stuart Bell. The history and ambience at Harry's is incredible and Stuart and his team are continuing the legacy with their modern Australian cuisine celebrating local produce. For this event they will be serving a 5 course degustation featuring produce from local suppliers and farmers. We heard from a reliable source that our iconic Woodford blend, that the team at Harry's normally serves their customers through the espresso machine, will be featured as part of the menu as well. If you are keen to bring this big and bold coffee into your home, order Woodford Blend online.  
Date: Saturday 5th August 2023
Time: 13:00 to 18:00
Location: Spicers Tamarind Retreat
Event name: 'Sunshine Coast Asian Food Festival' [ticket link]  
Why: Our friends from Spirit House, whom we have been collaborating with for more than a decade, will be one of the talented teams serving their innovative and delicious dishes at the Asian Food Festival. There is not much more that needs to be said after their Head Chef Tom Hitchcock was recently crowned as Foodservice Australia 2023 – Chef of the Year. Such an amazing achievement in his first head chef position at a young age. If a festival is not your thing, but you are keen to enjoy their modern and innovative take on Thai cuisine be sure to book a table at either the main restaurant or their Hong Sa Bar. Besides the food you will love the film-set like tropical Thai atmosphere they have created on the property. It is like a full immersive experience.