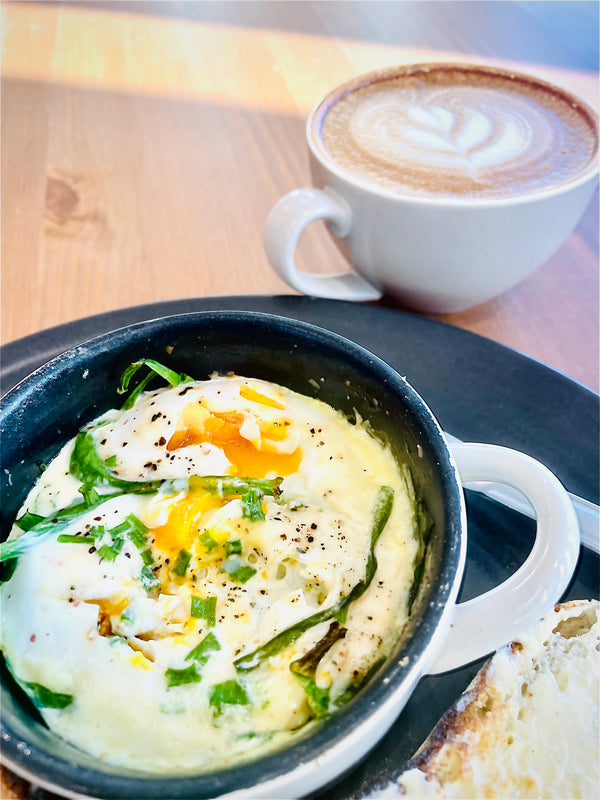 Breakfast /
Matildas Breakfast - "Green and Gold" Oven Baked Eggs
For Sam Kerr, and her inspiring, and fabulous Matildas!
Many of us at Montville Coffee are super excited by the FIFA Women's World Cup being hosted in Australia and Aotearoa New Zealand. 
We recognise the significance of this global event and the incredible step it takes towards gender equality in sports.
To celebrate the moment, and keep ourselves nourished for what we hope is a long and successful campaign, we've came up with a little 'Green and Gold Breakfast', and we reckon, it 'kicks goals'!
I'm sure the Matildas won't mind us sharing this with you too! We're in this together... 
So, here is it, our very own Matildas Breakfast - "Green and Gold Oven Baked Eggs". 
Ingredients
["4 ramekins with a lids","Unsalted butter","80gs of spinach leaves","8 x 70g large eggs (fridge cooled)","100ml of thickened cream","Shaved Parmesan cheese","Salt and Pepper","Chopped Chives","Crusty sourdough loaf","Salted Butter"]
The perfect coffee
Coffee for the moment