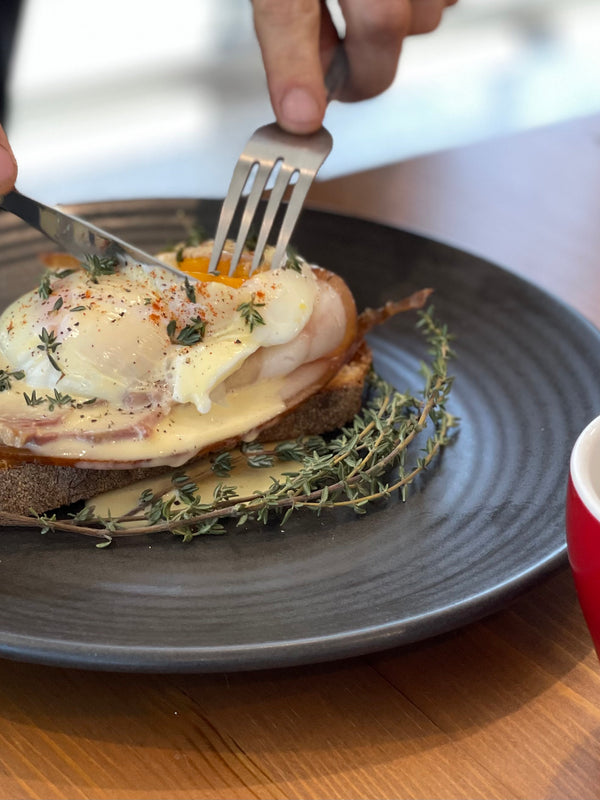 Breakfast / French
Forage Farms inspired: Eggs Benedict with Nitrate Free Ham and cheat's Hollandaise
In 2018-2019 BC (before covid), some of you will remember our pop up cafe at the heels of the iconic Big Pineapple. 
We enjoyed providing the local community and the tourists with a smorgasbord of fresh and fine food options, all featuring Montville Coffee's local food heroes.
One of those was the team at Forage Farms, who featured throughout the menu with our popular snack 'Bacon and Egg Cups' which were bite-size, paired with a coffee, our 'MvC Breaky Burrito' which was sealed with approval from the awesome and loyal team at Wildlife HQ, and our popular lunchtime 'Roast Vegetable Frittata', a FAN favourite for the staff who held a number of offices onsite at the time. 
After our recent catch up with Hamish to share the Forage Farms story with you, it's only fitting that we champion these fine producers with another rodeo of food and coffee collaboration. 
So here's our Forage Farms inspired 'Egg's Benedict (with cheat's Hollandaise)' which features Forage Farms Eggs and Nitrate Free Ham. 
The produce has been sourced from our long time retail customer, and true champions of local producers, Farmer and Sun (Southside Shopping centre, Gympie)
Enjoy!
Ingredients
["2 tbsp of white vinegar","4 'Forage Farms' 700g eggs","Sourdough bread (sliced)","Butter for spreading on bread","4 slices of Forage Farms Nitrate Free Ham","2 sprigs of fresh thyme","180g of unsalted butter","3 Forage Farm egg yolks","2 tbsp of fresh lemon juice","1 tbsp of hot water","1/2 tsp sea salt","Pinch of cayenne pepper"]
The perfect coffee
Bright and Light, perfectly paired balance the richness of the dish