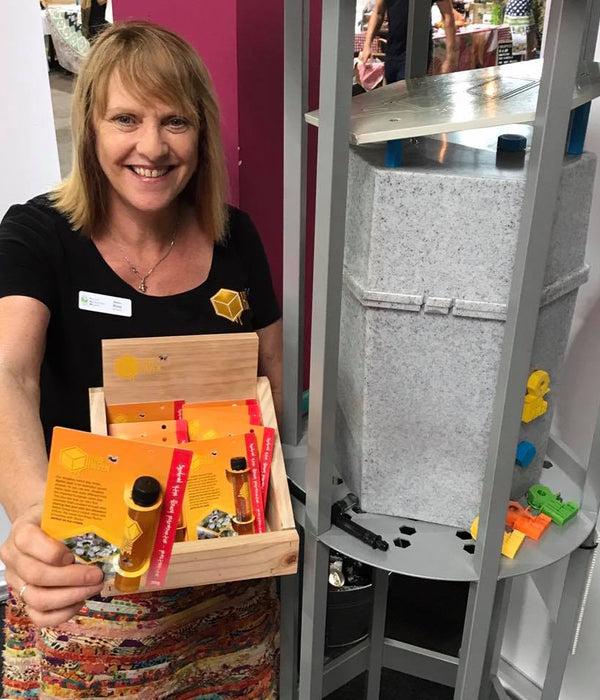 Journal
In conversation with Ann from Hive Haven
In honour of International Day for Biological Diversity, we talk to Ann from Hive Haven. Hive Haven is an award Winning bee box manufacturer. Through their unique bee hotel model the 'v9', these Sunshine Coast locals are focused on delivering a solution to the global decline in the pollination of food crops. 
"If we lose the Australian stingless native bee; they can't be replaced or duplicated. They will be lost forever. "
The Australian Stingless Bee 
Bees and flowering plants have developed a complex relationship over millions of years. Today an estimated 80% of flowering food plants depend on insect pollination in order to reproduce. Plants have crafted their flowers to entice bees & in turn bees have evolved to defy imagination with their ability to fly weighed down with pollen & nectar up to half their body weight.  
Many people would be forgiven for thinking the only bee we have here in Australia is the European honey bee. This bee was actually introduced into Australia in the early 1800s and today is responsible for all the honey we see on our supermarket shelves.
The Australian stingless bee was our first pollinator. It shared this land with the dinosaurs and today has a pivotal role to play in the pollination of food plants. In essence, it could be the key to our survival. Aboriginal & Torres Strait Islanders have used native honey as a food and medicine source for tens of thousands of years.
Hive Haven
Ann & Jeff from Hive Haven are focused on raising the profile of these ecologically important insects and believe native bees have been overlooked as a viable and sustainable industry (pollination, honey, propolis). They believe that through commercialisation we might actually save this vulnerable species from extinction. If we lose the Australian stingless native bee; they can't be replaced or duplicated. They will be lost forever.   
Ann says working with these amazing creatures has provided a unique opportunity to appreciate and respect their complexity as a superorganism. Members of the colony act with a singular purpose to benefit the colony. The longer you have a colony in your care, the more you come to appreciate the complexity and its importance to the larger eco-system.
Hive Haven donates 10% of gross native bee product sales to its 'bee superhighway' initiative where Ann & Jeff have installed purpose-built V9 native bee boxes in public locations. The displays enable people to interact and appreciate the significance of this resilient but equally fragile creature. What started as trial sites for their award-winning hive design has now evolved into a highway of bee-friendly sites including the:
Innovation Centre Sunshine Coast
Australian Parliament House - Canberra
Australia Zoo Wildlife Hospital
Glasshouse Views Retirement Village
Caboolture Montessori School
International Montessori College – Sippy Downs
Maleny Dairies
QUT – Gardens Point
USC – Sippy Downs
To find more about what Ann and Jeff do visit them at: https://www.hivehaven.com.au/ or hit up their socials @hivehaven